A Christmas Chocolate Tradition
With Christmas becoming a distant memory and Hot Cross Buns on sale in supermarkets since January, I've come to realise that it's become a tradition for me to make chocolates as Christmas gifts for family after three consecutive years.
It started with attending the New Zealand Chocolate Festival in 2011 and 2012. A four-hour timeslot with demonstrations, tastings and vendor stalls. One demonstration of chocolate tempering piqued my interest, and I simply had to try it out for myself - with somewhat mixed success.
Fast forward to late 2012, where I had the opportunity to treat myself to a two-day chocolate-making course run by She Chocolat in Christchurch. It started with an interactive background on chocolate history and blind taste-test, where She's own dark chocolate was the unanimous favourite among the four of us attendees, and Cadbury Old Gold unanimously in last place. The bulk of that first afternoon, though, was developing a flavour for chocolate ganache - which we then piped onto trays for enrobing on Day Two. It felt an honour to have our chocolate centres join the storage rack with She's own range of chocolates that are sold around New Zealand.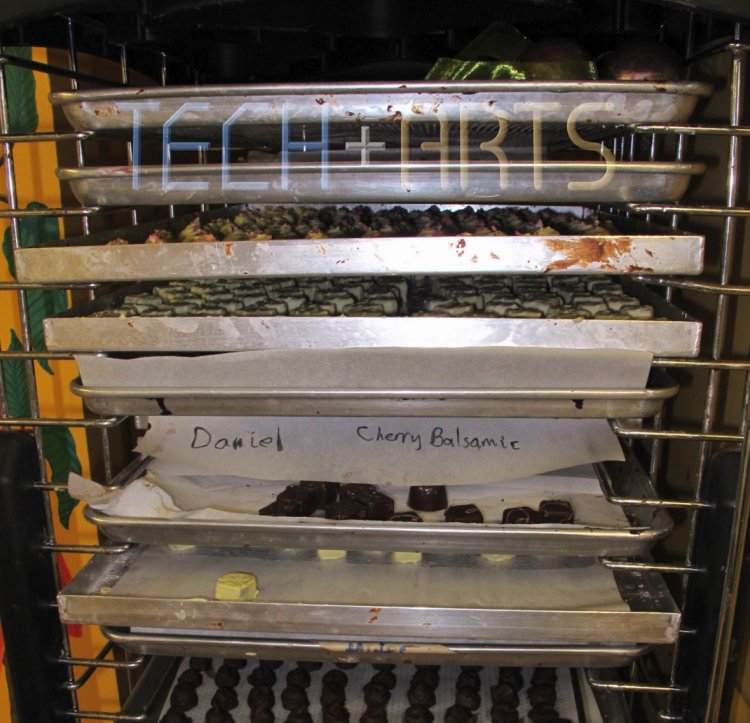 My Cherry-Balsamic chocolates on a tray amongst legends
These Cherry-Balsamic chocolates proved to be a hit with family, friends and colleagues. It became particularly amusing to witness their reactions as they took their first bite and got transported to another dimension. Apart from that, it became a huge inspiration for me to get creative with chocolate-making.
Such as this piece for the office Halloween party: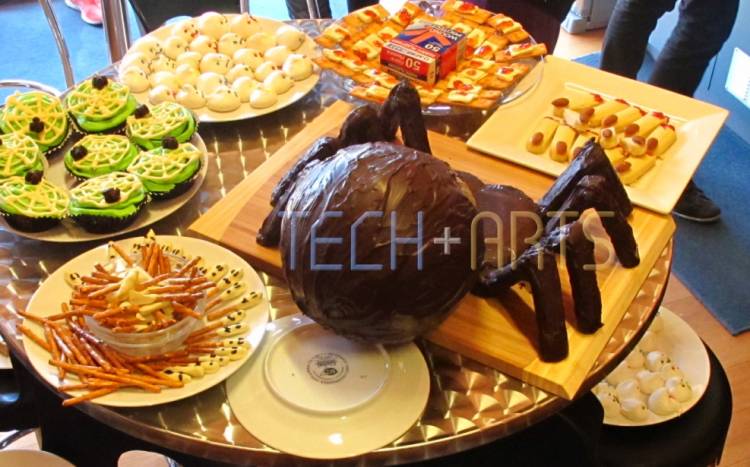 Guess which one is mine ;-)
Anyway, Christmas 2014 proved to be an encore of flavours I first developed two years earlier: Cherry Balsamic and Minced Fruit & Brandy. This also proved to be a refinement of my technique.
On the course at She, we learned the trick of smearing a thin layer of melted chocolate on the base of our ganache centres and letting them harden before dipping into more chocolate. This was to make the dipping easier by allowing the chocolates to slide off the dipping fork. Ganache turns out to be very sticky, which makes it impractical to shape by rolling it out and using cookie cutters. Yes, I tried. The problem was that this turned out to be a slow step for me.
In light of this, I came up with the idea of piping the ganache onto chocolate bases, rather than directly onto greaseproof paper. I ended up making these bases by using a plastic stencil that I designed and had laser-cut by local fabrication company Ponoko. Apart from saving time, this stencil allows me to produce a consistent shape more easily and reuse the stencil for another set of bases more quickly than filling a single mould.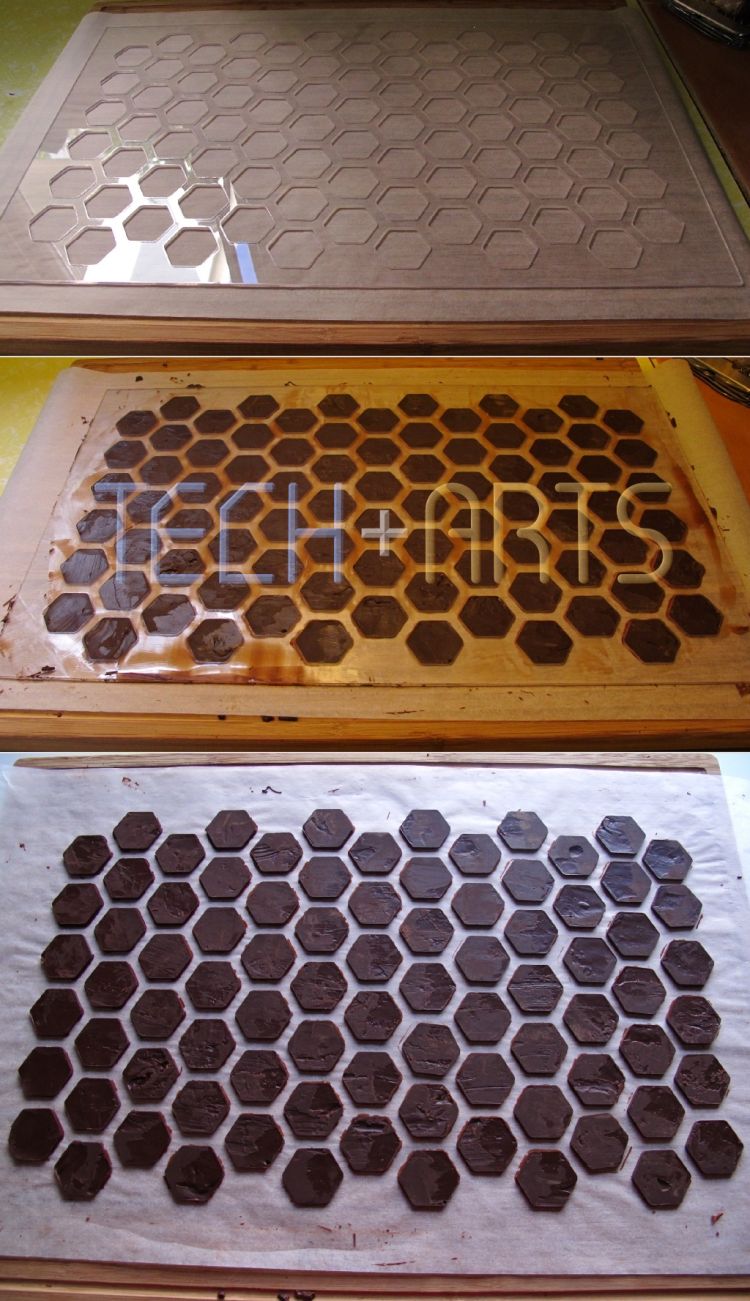 My custom stencil in action
One other challenge is the tendency for beads of sticky juice from the ganache to form on the outside of finished chocolates. This could be partly due to a crack in the chocolate shell, making it important to ensure that the truffle has a decent coat of chocolate in every crevice. Dusting the undipped chocolates with cocoa powder and smoothing out crevices seemed to help this time around.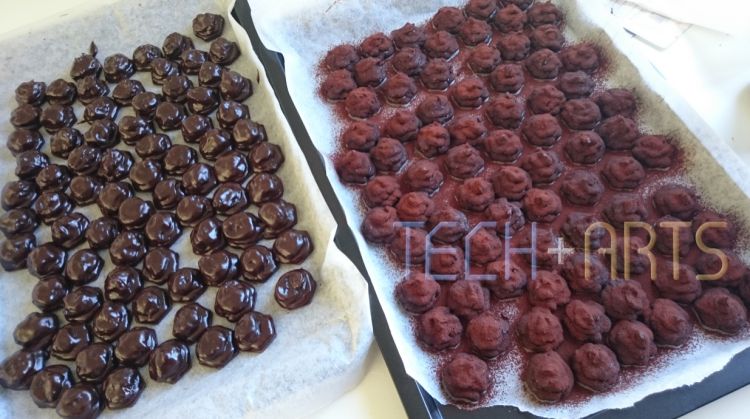 Chocolates in progress. Cherry Balsamic on left, Minced Fruit & Brandy on right.
Since I produced two different flavours, I made sure that the finished products were easy to tell apart - given that they were exactly the same shape. This was solved by tempering small batches of raw cocoa butter with dry food colour, and dotting the tops of the chocolates.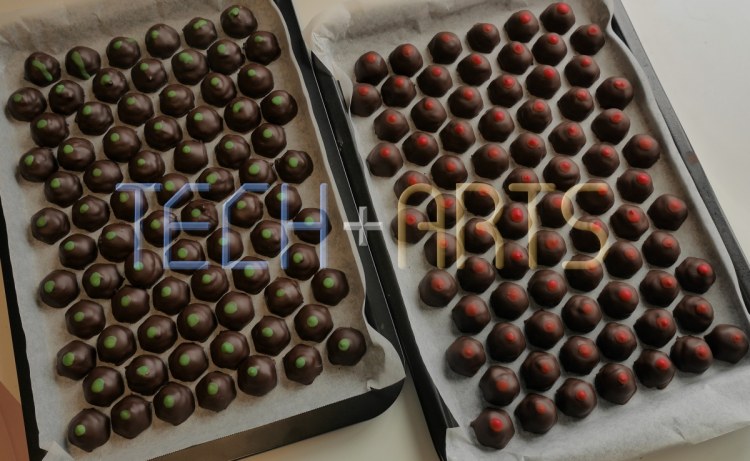 The finished chocolates, with Cherry-Balsamic on right.
The finished chocolates are truly works of art. ;-)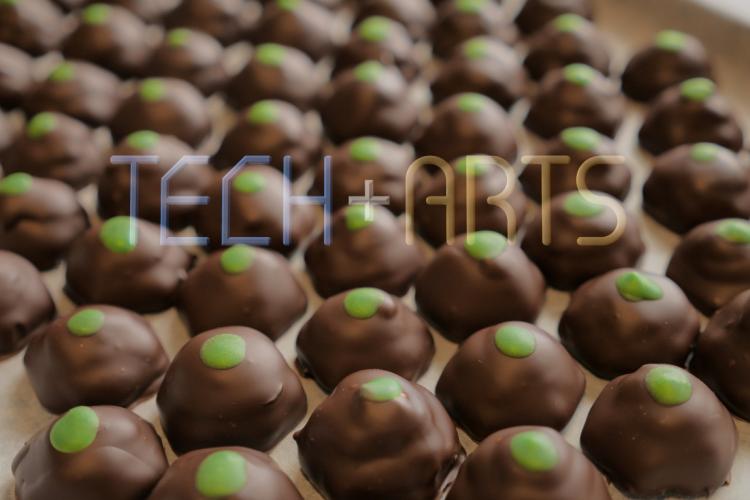 Minced Fruit & Brandy chocolates.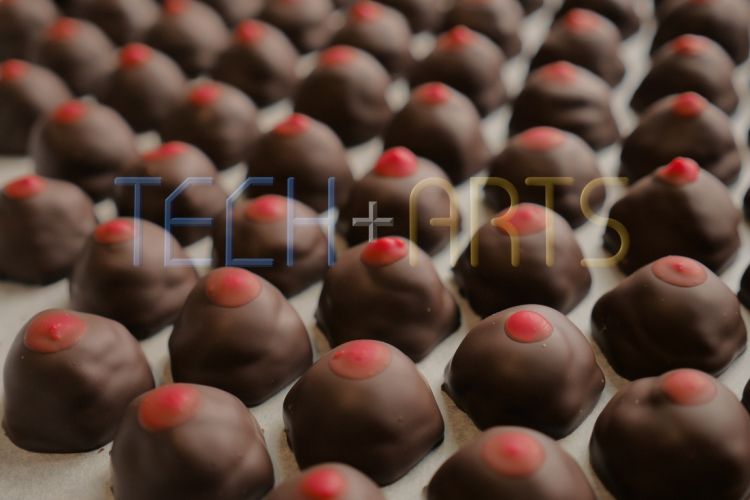 Cherry-Balsamic chocolates (with dried cherry inside)